Checkups and Cleanings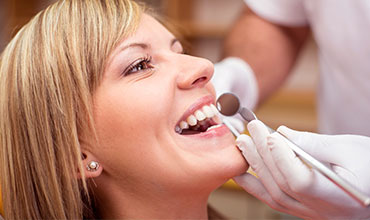 Daily brushing and flossing are important to maintain good oral health. However, even the most diligent brushing and flossing can not get rid of plaque and tartar which can build up over time and cause dental disease. That's why you need regular checkups and cleanings to ensure healthy teeth. A checkup allows us to see if you have any dental problems and helps you keep your mouth healthy. Leaving problems untreated could make them more difficult to treat in the future, so it's best to deal with problems early or prevent them altogether.
Our dental checkups include a thorough cleaning to remove plaque, tartar, bacteria and stains from your teeth. Once your teeth have been cleaned, we will conduct a thorough exam of your teeth and your gums. During this exam, the doctor will look for signs of oral health problems including tooth decay, Gingivitis, gum disease, oral cancer and more. If necessary, we will also take x-rays of your mouth. After your exam, the doctor will share findings with you and explain any concerns. If you need restorative dental care, we'll educate you about your situation and treatment options, then help you make a decision and schedule for the detal treatments.
If you live in Seattle area and are in need of a dental checkup, contact our dental office today to schedule an appointment. We currently accepting new patients and we work with many dental insurance plans. We would welcome the opportunity to provide dental care for you and your entire family. We look forward to helping you achieve and maintain a beautiful smile.